ITAR is a set of US government regulations that control the export and import of defense-related technology, designed to ensure that we can control which countries we sell this technology to. In essence, these regulations help ensure that we protect data and technology from unwanted eyes. 
Anti-reflection coatings are used in a variety of defense applications, such as IR optics and target acquisition. Their ability to remove unwanted reflections improves optical clarity and performance – essential for. Where reliability and toughness are concerned, our AR coatings are designed to withstand harsh military environments. Penn Optical Coatings' compliance with ITAR regulations allows us to be a key supplier to defense-related supply chains.
Designing for Military Grade Anti-Reflection Coatings
Anti-reflection coatings need to fulfill important requirements to meet the needs of the defense industry. First of all, sensitivity and versatility are a must. A highly sensitive optical system accurately detects and measures input. Coupled with a MIL-spec anti-reflection coating, the optic minimizes the amount of light that is lost due to reflection – allowing the system to retain more of the input signal. Defense optics operate across a variety of spectral regions and the AR coating must be optimized for each specific application.
---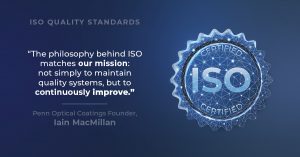 We're proud to announce that Penn is now ISO certified! Read our press release where we go into our stringent standards of care and the regulatory requirements we must uphold. 
---
What are MIL-spec Standards for Anti-Reflection Coatings?
AR coatings are very common for defense-related products. Performance in demanding environments is crucial for military applications. Things like moisture, dust, and debris can all damage an optical system, and an AR coating needs to withstand those environmental elements. Penn Optical Coatings offers an in-house environmental testing facility to ensure compliance with specifications. MIL-spec testing includes: 
Humidity

Salt/spray

Fog

Solubility

Abrasion

Adhesion

Temperature cycling
As field uses for military optics can face environmental extremes, the MIL-spec can, rarely, include fungal growth and sandblasting requirements. 
What Defense Applications Are AR Coatings Used For?
High-quality optics play a crucial role in defense targeting systems to achieve precision accuracy for mission success. Reflections and glare can cause interference with target identification and tracking, reducing the accuracy of these systems. 
Anti-reflection coatings work by minimizing the amount of light that is lost due to reflection, resulting in improved sensitivity for optical systems. Not only does this make these systems more effective in low-light conditions, but it also leads to brighter, sharper, and more detailed images that are essential for surveillance and reconnaissance applications.
Anti-reflection coatings can also be used in stealth applications to reduce the visibility of military equipment. By minimizing the amount of light that is reflected off the surface of a lens or window, anti-reflection coatings can make it more difficult for an observer to detect the presence of military equipment. This can be particularly important in equipment such as aircraft, where reducing the visibility of the aircraft can improve its safety and effectiveness.
---
Penn Optical Coatings provides ITAR-compliant optical coatings and is committed to continuous improvement in quality systems and cyber security to protect our customers' data and technology. 
The defense industry is one of many markets Penn Optical Coatings is proud to serve. See how our library of optical coatings can meet your needs or request a custom solution.